October 13, 2023
Interviews
In the exciting world of career exploration, think of recruiters as the matchmakers who open doors to exciting job opportunities. They have a superpower for spotting talent and linking people with their dream careers. Recruiters are like the friendly guides at the start of your professional journey. This month, in SOFTSWISS Faces, let's meet Valentina Kushmintseva, Senior Talent Acquisition Partner at SOFTSWISS, who is searching for top talents in the industry. Get ready for a fascinating adventure as we explore Valentina's recruiting skills and the wisdom she shares.
Valentina's career story is a testament to how sometimes our professional path unfolds unexpectedly. She discovered her love for recruiting while living in the lively streets of the UK. It was there that she became enchanted by the art of connecting with people, helping them discover their hidden talents, and guiding them toward their true callings. Even though she did not dream of being a recruiter when she was a child, she had a natural gift for understanding the intricacies of human potential. This talent led her down the path of recruitment at SOFTSWISS.
– Do you agree with the notion that being a recruiter is an easy job that anyone can do without special skills?
– If you think recruiters have an easy job, I disagree. Working as a recruiter is no cakewalk. It is a multifaceted profession that requires more than just good communication skills. Recruiters need to be industry experts, excellent organisers, master negotiators, and creative problem solvers. It is demanding but incredibly fulfilling. It is not just about shaking hands and handing out business cards. Each day in recruitment presents a new puzzle to solve.
– In your opinion, what makes a successful IT recruiter?
– A successful IT recruiter is a people person with adaptability ingrained in their DNA. They are characterised by several key qualities, including exceptional interpersonal skills to build rapport with candidates and stakeholders, flexibility to navigate dynamic job markets, the ability to manage time and priorities effectively, a deep understanding of the ins and outs of the industries they recruit for, and the dedication to provide a positive candidate experience.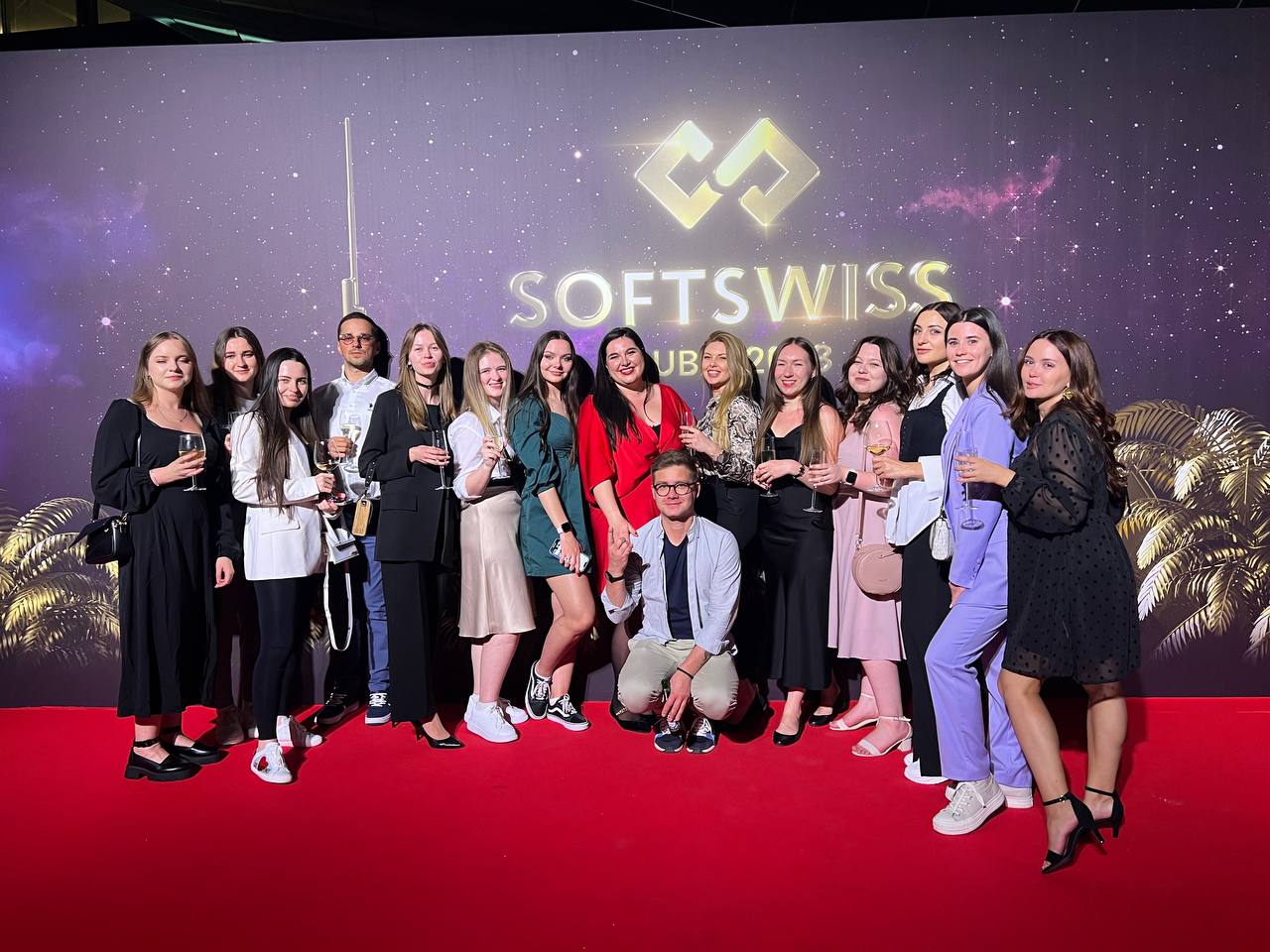 – Many people often use the term 'HR' to refer to various roles within the HR department, such as recruiters and HR Business Partners. Could you shed light on the distinctions among these roles?
– Certainly! In the HR department at SOFTSWISS, we have a well-structured team with distinct roles that contribute to our HR strategy. Let's break it down:
Talent Acquisition Partners (recruiters)

are true talent detectives. They specialise in finding the right people for our open positions. Their job involves searching for potential candidates, reviewing CVs, and conducting interviews to identify the perfect fit for specific roles. They are the ones who ensure that we have a steady inflow of top-notch talent ready to join our team.

HR Business Partners (HRBPs)

are the strategic thinkers in our HR department. They work closely with various department heads and managers to make sure our HR strategies align perfectly with our overall business goals. They are like the HR consultants of our company. HRBPs dive into HR metrics, resolve any employee-related issues, and collaborate on enhancing work relationships and productivity. In a nutshell, they are the bridge that ensures HR practices support our business success.

HR Admin Specialists

are the backbone of our HR operations. They handle a wide range of HR tasks across the company. They are the ones responsible for maintaining personnel records, managing the onboarding process, and ensuring that we are always in compliance with HR policies and regulations. They keep the HR engine running smoothly every day.
This structured approach allows us to manage talent acquisition effectively, guarantee alignment between our HR practices and business objectives, and ensure that our day-to-day HR operations run seamlessly. Each role brings a unique element to our overall HR success. Together, they make our HR department a well-oiled machine, ready to support SOFTSWISS' growth and success.
– What is it like to be a recruiter at SOFTSWISS? And why did you choose SOFTSWISS?
– Working at SOFTSWISS is like taking a thrilling ride on the rollercoaster of opportunity. Imagine having a pivotal role in shaping the future of the company by identifying and bringing in top talents. But what truly makes this journey exceptional is the chance to build teams in Bulgaria and Serbia from the ground up. And that is just the beginning.
What adds an extra layer of excitement to this adventure is the diverse and incredibly talented group of people I get to collaborate with. As I approach my one-year mark at SOFTSWISS, I can't help but look back at the remarkable growth, knowledge, and skills I have acquired during this time. It has been an incredible journey.
So, what led me to choose SOFTSWISS as my workplace? Well, it all boils down to the unique environment this company provides. Its innovative and forward-thinking approach is nothing short of captivating. SOFTSWISS has earned a stellar reputation for excellence in the iGaming industry, and its unwavering commitment to continuous improvement is truly inspiring. The multicultural atmosphere here fosters creativity, values diversity, and actively encourages personal and professional growth.
Furthermore, a key factor in my decision was the transparent and honest communication with my manager, Natalia Perkowska. Right from the beginning, she set clear expectations, and this transparency within the management team played a pivotal role in my choice to join SOFTSWISS. It is not just about the company itself but also the amazing team I am part of and the shared core values that drew me in.
– Could you tell us about the various career opportunities that the recruiter field offers, and how your own career has developed over time?
– The world of recruiting is like a treasure trove of opportunities, each offering its unique adventure. Whether you fancy corporate recruitment, the thrill of agency recruiting, or the specialised realms of executive search, technical wizardry in tech recruitment, or the leadership mantle in talent acquisition, there is a path for everyone.
In my own journey, I have morphed from a junior recruiter into a seasoned senior, honing my skills in the art of talent acquisition strategy and the science of personal and employer branding. The beauty of recruitment lies in its dual nature – it is a realm where you can specialise in what you love and still have the chance to climb the career ladder to new heights. It's like having a career compass that lets you navigate your professional destiny.
– In October you were a speaker at the Career Show in Bulgaria where you discussed CV crafting. Can you share some resume writing tips with our blog readers to help them create an attention-grabbing CV that appeals to SOFTSWISS?
– Crafting an impressive CV involves showcasing your relevant experiences, achievements, and skills. When applying for a job at SOFTSWISS, remember to tailor your CV to match the specific job requirements mentioned in the job description. Highlight significant accomplishments and emphasise skills that align with the job requirements. Include a professional summary that showcases your unique value to potential employers. Lastly, make sure your CV is error-free and well-formatted for a polished and professional appearance.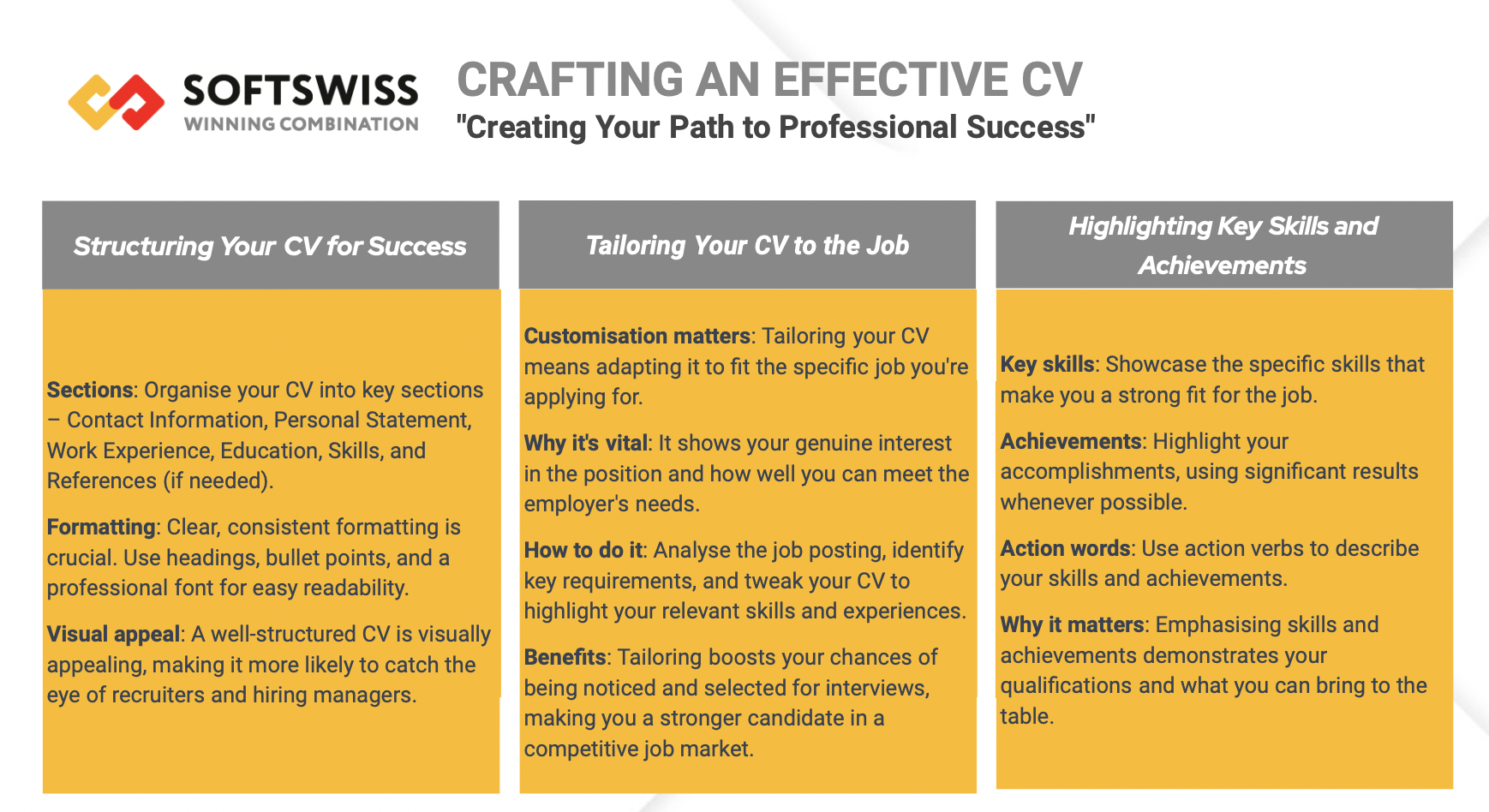 And here is an extensive list of the essential dos and don'ts that every applicant should be well-versed in.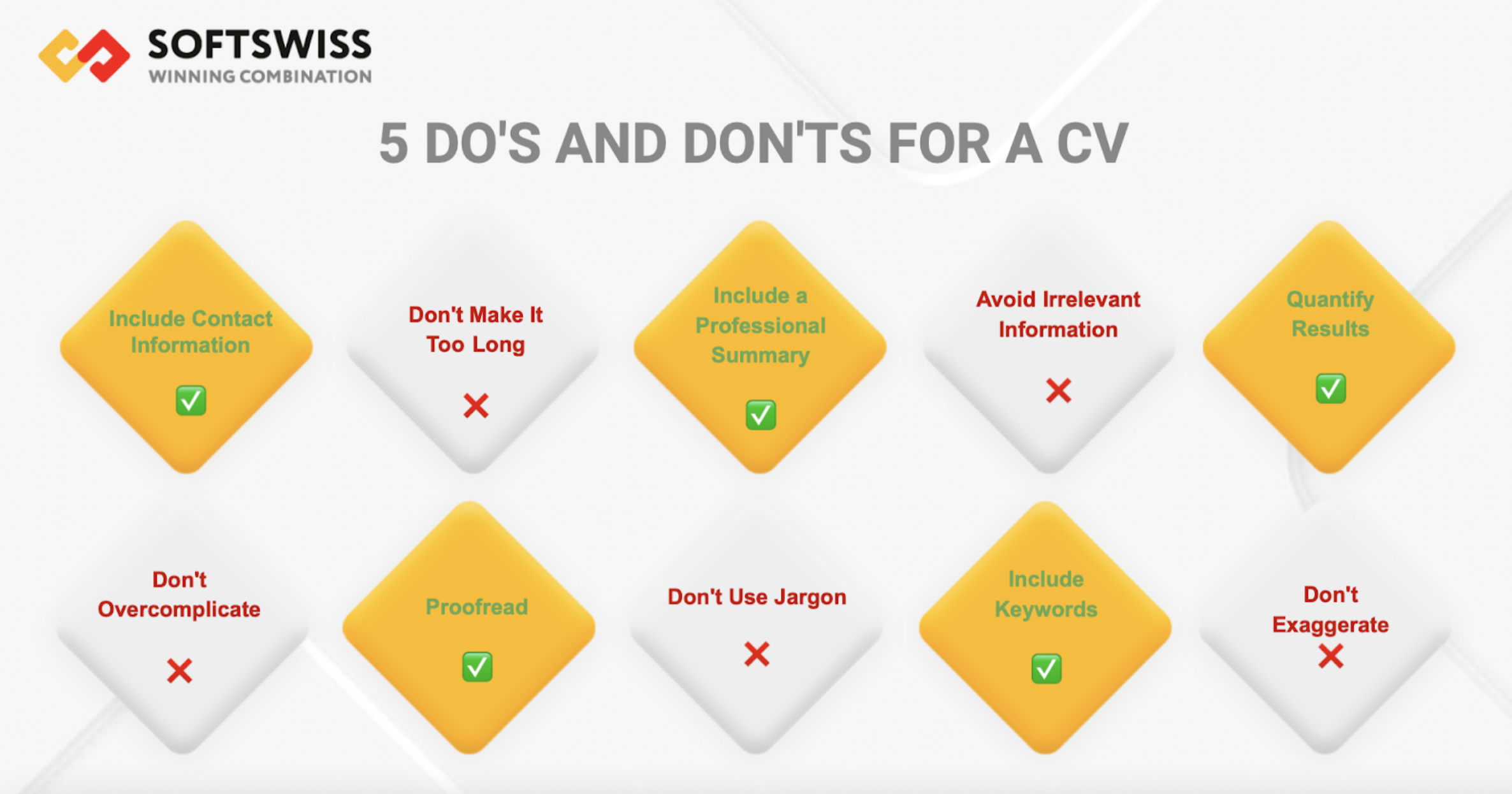 These additional tips and resources can significantly enhance your career development, improve your skills, and boost your chances of success in the job market:
LinkedIn Learning

offers courses on career development and soft skills.

Udemy

provides affordable online courses for interview prep and CV writing.

Toastmasters International

enhances public speaking and communication skills.

Glassdoor

offers company reviews, salary data, and interview insights.
Now that you have gained insights into the intricacies of crafting an exceptional CV and have a grasp of the differences between HR department specialists, it is a great time to find the right job for you at SOFTSWISS and discover your true calling. Who knows, perhaps you, the reader of this article, could be the next bright mind to join SOFTSWISS, bringing fresh ideas and innovation to the team.