November 15, 2023
Interviews
As October highlighted the significance of timely consultations for breast cancer, November takes on a new hue – a canvas for painting awareness about the often overlooked but crucial aspects of men's health.
Movember, synonymous with moustaches and beards, is more than just a style statement. It is a symbol of a cause – raising awareness about the early detection and treatment of prostate cancer, the most prevalent tumour affecting men. Prostate cancer affects millions globally, with around 1.4 million new cases diagnosed in 2020, marking 7.3% of cancer incidents.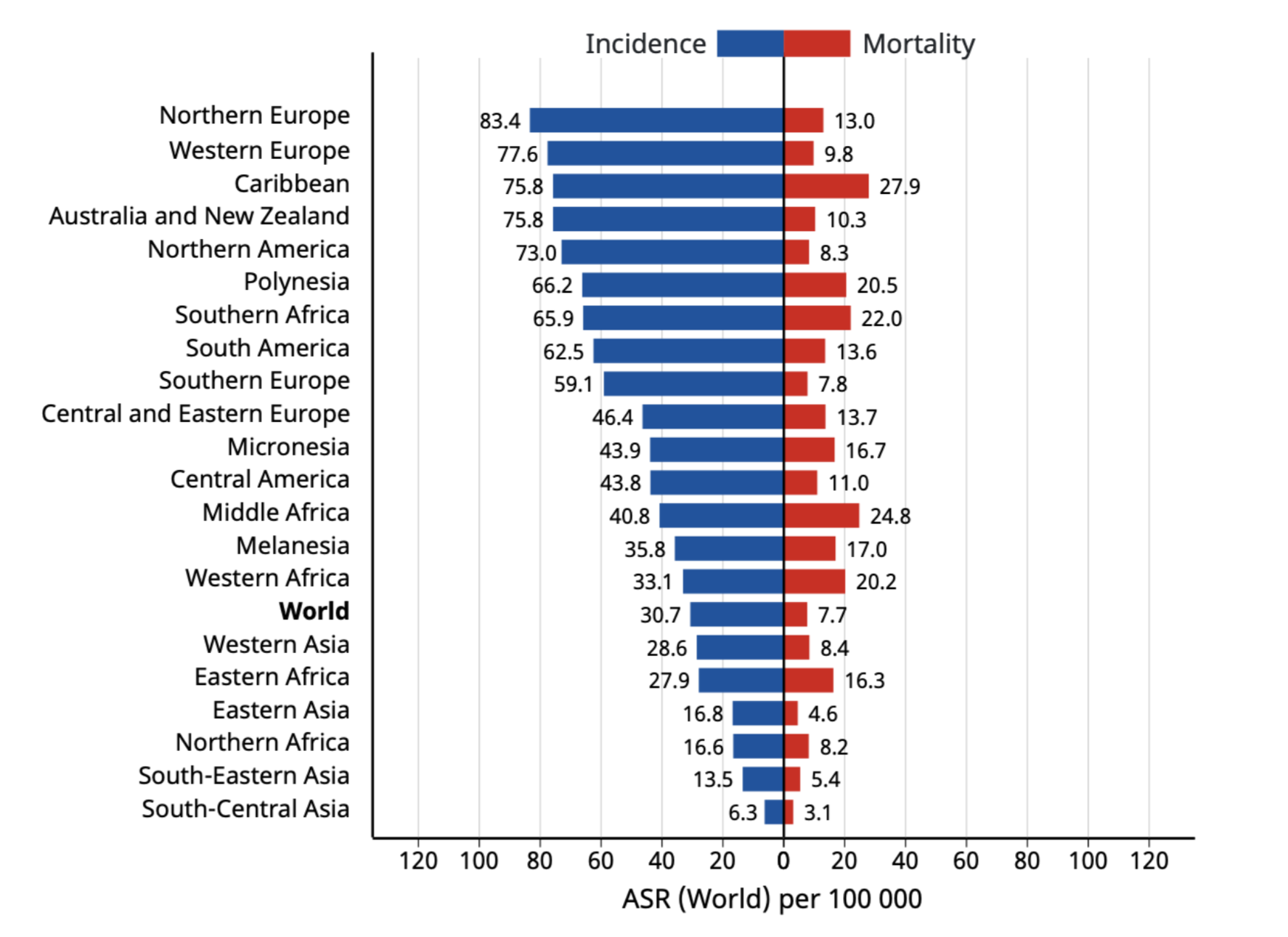 Age standardised (world) incidence and mortality rates, prostate cancer.
At SOFTSWISS, discussions about health are not just a passing nod, they contribute to a core value embodied in 'WE SEE PEOPLE'. This value drives the SOFTSWISS commitment to care for its employees' well-being, and to extend prostate cancer awareness into the realms of men's health.
SOFTSWISS Mission
SOFTSWISS' offices become vibrant hubs of support throughout November. Moustache and beard competitions, along with a step challenge, are the hallmarks of November 2023. Employees embark on a hairy adventure, sharing their journey on social media and letting their facial hair grow as a visible symbol of their dedication to the cause. The message is clear: it is not just about style but a walking reminder encouraging men to ponder over their health.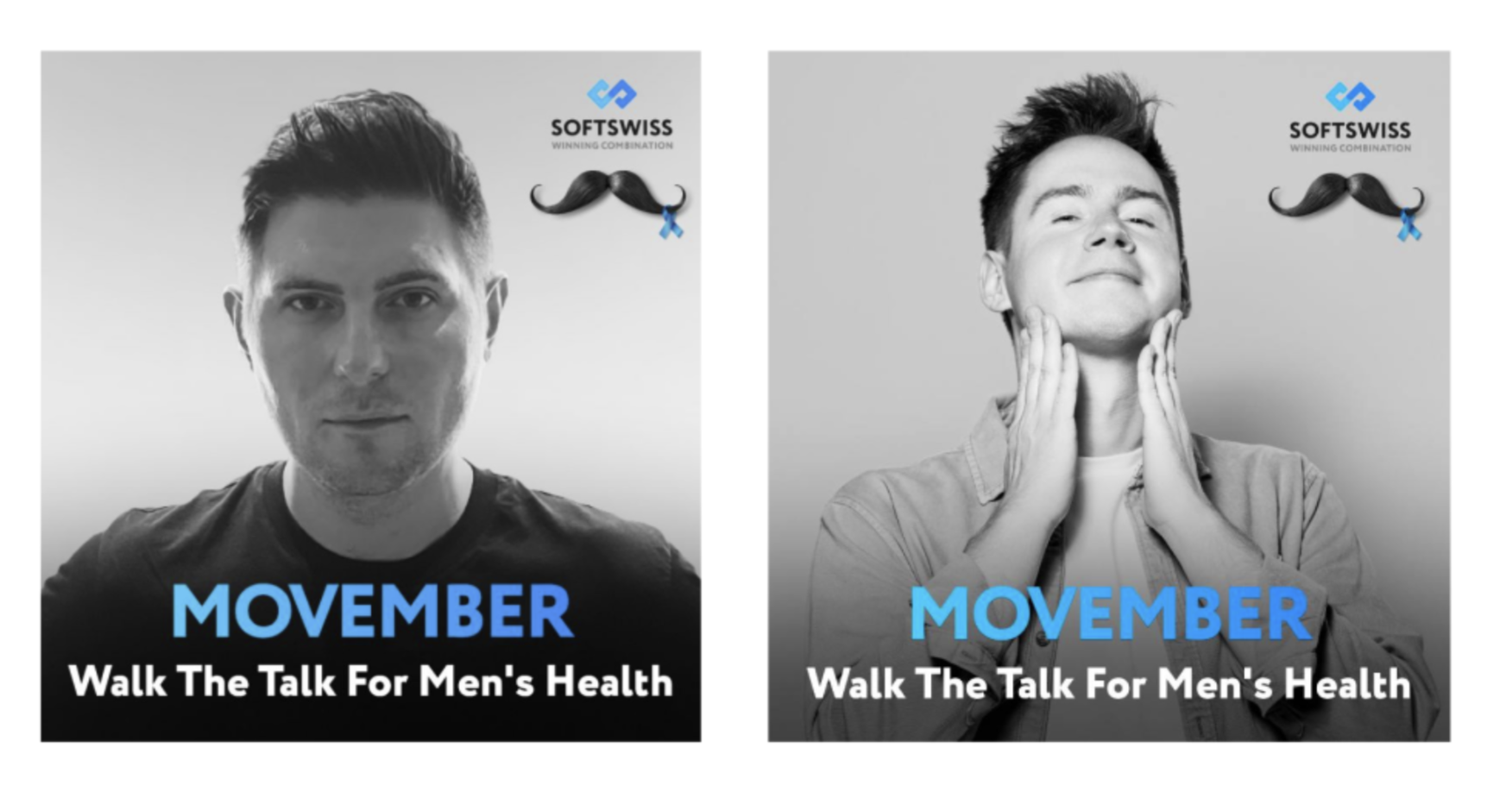 For those who opted out of the bearded team, SOFTSWISS organised a different challenge – a race to accumulate the most steps to promote physical activity.
The 'Walk the Talk for Men's Health' movement expands with a mission that goes beyond facial hair. At the end of November, 'Morning Movember Treats' take the spotlight in all SOFTSWISS offices, featuring a spread of healthy snacks and smoothies.
Expert Insights for Men's Well-Being
As part of the Movember support initiatives, SOFTSWISS collaborated with Sergey Filimonov, a specialist in urology and andrology, to address crucial inquiries about men's health. It aimed to provide a thorough understanding of the specific health challenges men face and the essential measures for safeguarding their well-being.
– During Movember, focused on men's health, let's talk about the main health issues men deal with today. What are the biggest challenges affecting men's well-being?
– Men's health concerns shift with age. Younger men, especially those under 40, may grapple with fertility issues and various discomforts related to their genital and urinary health. As men age, typically past 40, it is not uncommon for them to encounter prostate-related problems, like benign prostate hyperplasia (BPH), and hormonal deficiencies.
– From your experience, what percentage of men undergo necessary examinations, and why do some still hesitate to see a urologist?
– You would be surprised, but only about 20% of men make regular visits for routine urological check-ups. The majority, around 80%, often delay seeking medical attention until their symptoms become rather bothersome. This delay usually stems from a lack of awareness about urological issues and a mindset that enduring symptoms is a show of strength. Often, it takes a push from their partners or emergencies to bring them in finally. But, let me tell you, early examinations have been crucial in uncovering conditions at their initial stages, leading to successful treatment and recovery.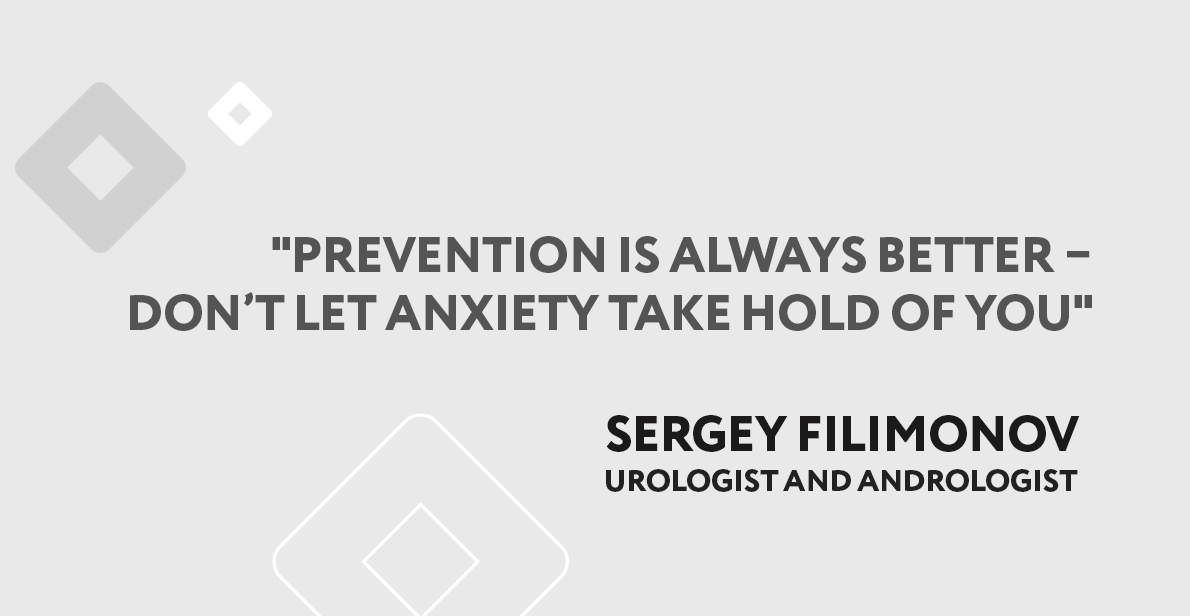 – What misconceptions about urological diseases are groundless?
– The most common fear among men is chronic prostatitis. There is this mistaken belief that it is a life sentence, but let me assure you, with proper care, it is very treatable. Additionally, several conditions that may seem like prostatitis are often unrelated to the prostate, causing unnecessary worry and confusion.
– How should men take care of their health? Is it through regular doctor visits, tests, or other steps?
– Men over 40 should aim for regular check-ups involving comprehensive blood and urine tests, identifying potential issues early. Before 40, it is recommended to schedule visits as needed, at least once every five years. For those leading an active romantic life, more frequent check-ups are advised.
– There's a belief that a urologist is exclusively a men's health doctor, but this is not true. When might women find it necessary to consult a urologist?
– Definitely, it is a persistent myth that urologists cater exclusively to men. The truth is that women also encounter issues related to their urinary tract and reproductive health that might warrant a visit to a urologist. Conditions like kidney stones, urinary tract infections, bladder problems, and issues with the urethra can impact women and prompt them to seek a urologist's expert guidance.
– How does a sedentary job impact men's health, and when should they be concerned?
– A sedentary job can lead to weight gain, reduced hormone production, and decreased blood circulation causing various other health issues. It is crucial to proactively counter these effects. Regular breaks, exercises, and incorporating physical activities into daily routines can mitigate the negative impacts of a desk job.
– What are the top three actions for maintaining men's health?
– Maintaining men's health is not just about a quick fix – it is a lifestyle. Here are three key actions that can truly make a difference:
Active Living and Nourishing Diet:

Staying active and choosing a balanced, nutritious diet is more than a health hack – it is a cornerstone of well-being. Incorporating physical activity and choosing wholesome, nutrient-rich foods is not just a short-term choice, it is a commitment to a longer, healthier life.

Healthy Sexual Relationships and Regular Check-ups: Cultivating a healthy and regular sexual life (2-3 times a week) is not only good for the heart but also beneficial for overall health.

 Additionally, regular health check-ups should not be a task to tick off, they are an investment in your well-being. Routine screenings and consultations play a critical role in catching potential health issues early, offering the best chance for effective treatment.

Mindset Matters and a Holistic Lifestyle:

Maintaining a positive outlook is not just a feel-good notion, it significantly impacts your health. A holistic approach to life involves managing stress, seeking joy in activities, nurturing supportive relationships, and fostering a healthy mental state. Taking care of your mental health is as vital as physical fitness. Incorporating practices like mindfulness, stress management techniques, and pursuing hobbies that bring joy contribute immensely to your overall health and well-being.
SOFTSWISS' commitment to Movember is not just a seasonal affair – it is a reminder that health, in all its forms, deserves attention, discussion, and action. It is about making men's health not just a topic for November but a year-long conversation.