On 17 September, the international IT company SOFTSWISS stepped up to support the annual environmental event known as 'World Cleanup Day' by taking action in Poznań. A team of 25 SOFTSWISS employees, equipped with gloves and garbage bags, worked diligently to clean a green area nestled between the train station and the New Market office district, close to the vibrant heart of Poznań.
In a matter of hours, SOFTSWISS volunteers managed to fill more than 50 bags with various types of household waste that had been littering the green space. The items collected included glass and plastic bottles, wires, old clothing, shoes, food packaging, and even fragments of household appliances. After the cleanup mission, the volunteers handed over  the waste to the utility services for proper disposal.
This cleanup effort in Poznań is part of the larger 'World Cleanup Day' initiative, which has been an ongoing effort in the city.  Every year, an increasing number of people show enthusiasm for participating in, and contributing to, the city's cleanliness. This spring, for example, a total of 150 community groups came together to remove 40 tons of waste from the streets. As for the recent autumn cleanup, which received support from the SOFTSWISS team, the full extent of the impact is still awaited.
The Public Utilities Department of Poznań City Hall expressed their gratitude to SOFTSWISS for the company's contribution to this important cause. Filip Suchecki, a representative of the department, commended SOFTSWISS for its waste collection efforts, noting that the company's dedication had earned recognition and praise from the department.
This autumn, 130 teams participated in the citywide cleanup, working in 180 designated areas. Such initiatives go beyond mere cleaning, they prioritise raising awareness about public area pollution and promoting environmentally responsible practices. With more companies showcasing their dedication to the community and emphasising the significance of environmental stewardship, the collective journey towards a greener and more sustainable future is gaining momentum.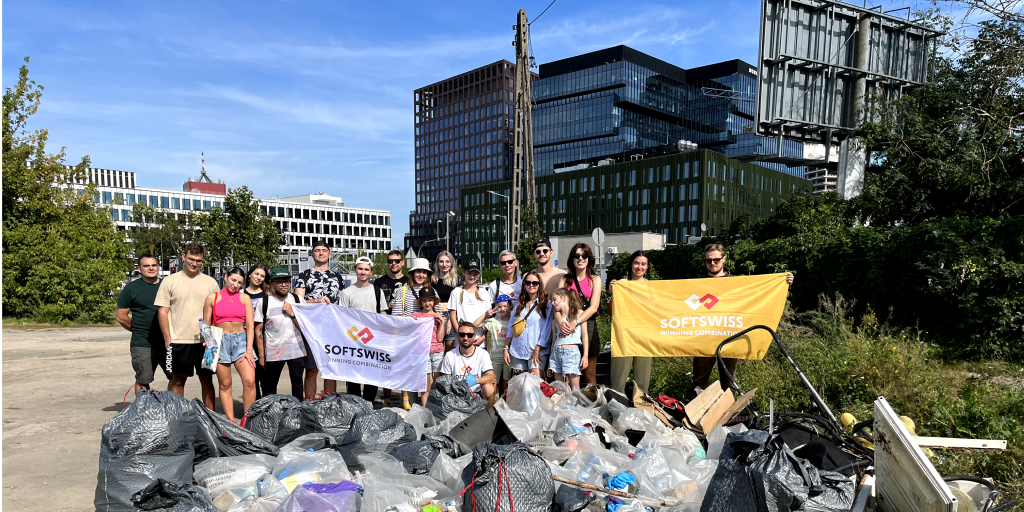 Maciej Wieczorek, Regional Director of SOFTSWISS' Polish branch, shared his thoughts on SOFTSWISS involvement, saying: "Our employees were enthusiastic about participating in the city cleanup, with some bringing their children along. This involvement is significant because it not only engages everyone in a crucial environmental initiative but also sets a great example for the younger generation. Poznań holds a special place in SOFTSWISS' history as the location of the company's first development centre in Poland, making it even more important to the team to maintain its cleanliness."
'World Cleanup Day' is an international environmental campaign that takes place every third Saturday of September in numerous countries. It demonstrates the significant impact that even small individual contributions can have on the environment. It all began in 2008 when 50,000 volunteers in Tallinn managed to collect a staggering 10,000 tons of garbage in just five hours. This inspiring achievement inspired volunteers around the world, and since then, over 20 million people have participated in this environmental campaign, collecting more than 560,000 tons of waste. It is a testament to the positive change that can transpire when communities come together to safeguard our planet.