Just Join IT hosted the IT Olympics last week, an event that brought together the IT and sports communities of Poland for an entertaining experience. Its mission is to unite the Polish IT community beyond the boundaries of traditional office spaces and boardrooms, instead immersing them in the world of sports and companionship.
IT Olympics Stadium
The grand event took place at the Athletics and Rugby Stadium in Gdańsk, strategically located in the heart of the bustling Tri-City area. The stadium bore witness to a remarkable congregation of IT professionals, with representatives from renowned international companies in attendance, including SOFTSWISS, notably recognised as a gold partner for the event. SOFTSWISS' remarkable feature was its 360-degree photo booth, which drew in over fifty participants, all eager to capture their moments within its spinning confines.
SOFTSWISS assembled a team of ten employees, each hailing from different departments within the company. What's particularly intriguing is that these ten individuals, prior to the event, were complete strangers. However, their shared enthusiasm, sportsmanship, and mutual eagerness to tackle the unconventional challenges on the horizon allowed them to bond seamlessly, functioning as a cohesive unit from the very outset of the competition. 
Our IT Olympics Champions
These outstanding individuals showed dedication in representing SOFTSWISS: Ivan Samoilenka ( Game Releases Team Lead), Leonid Prybluda (SEO Linkbuilder), Maksym Artiukhov (Talent Acquisition Lead), Maryia Shastsitka (Content Specialist), Melissa Shved (Office Manager), Mikita Skrundz (Compliance and Legal  Officer), Oleg Poroshin (Product Manager), Svitlana Kulykova (SEO Linkbuilder), Uladzislau Kazlouski (First Line Support Manager), and Vasili Shyshkin (Business Analyst).
Thanks to their dedication and a firm belief in success, SOFTSWISS made an impressive debut by securing an admirable 3rd place among the thirty-three competing teams.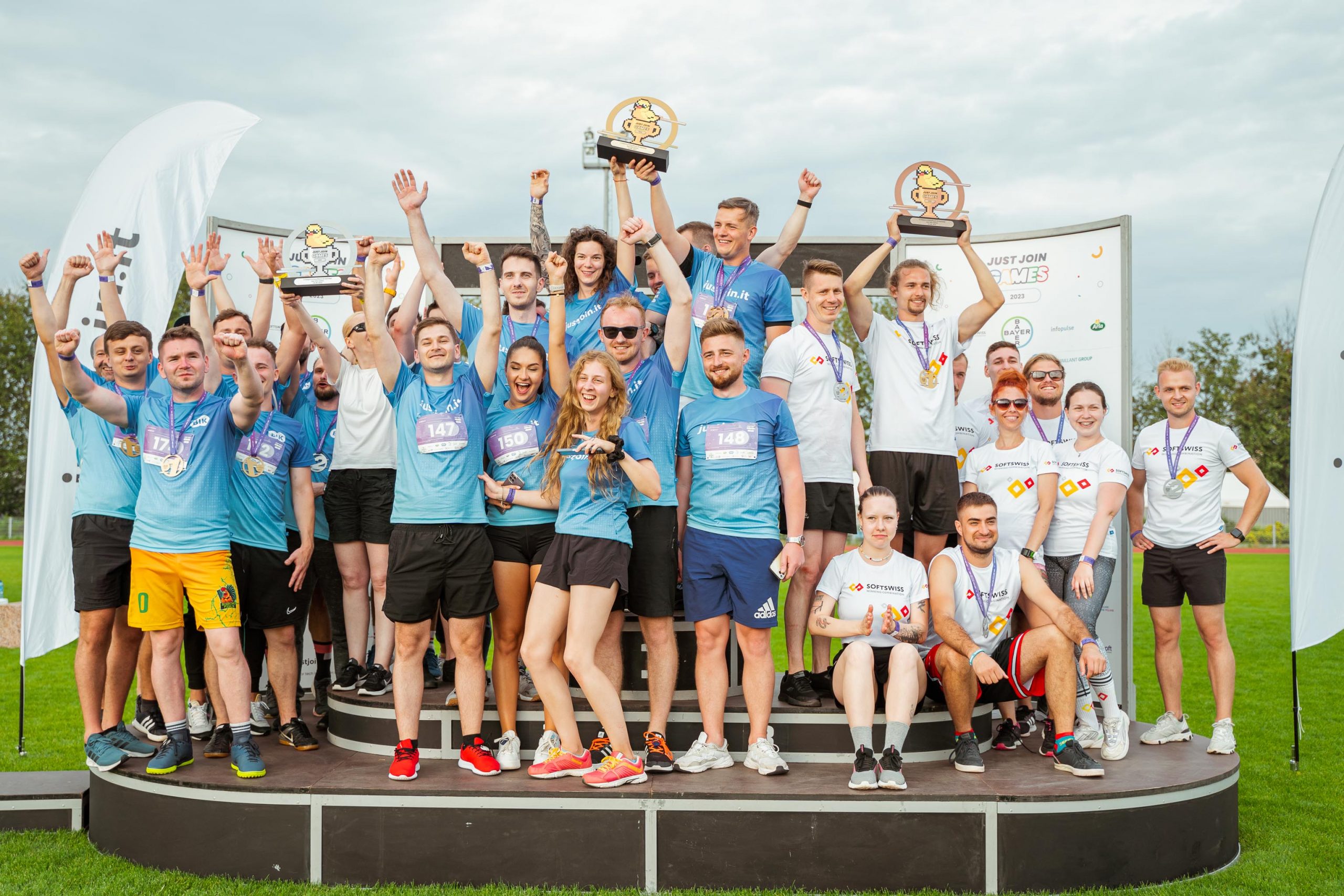 Something Different
What sets the IT Olympics apart is its unique take on traditional sporting competitions. Participants compete individually while concurrently earning points for their respective companies in the overall standings. 
The disciplines featured throughout the day were imbued with IT humour, with competitions like the 'hard disc throw,' 'monitor put', 'Olympic scrum,' 'sprint with a laptop,' and 'time trial in keyboard assembly.' These unconventional events injected a sense of playfulness and creativity into the competition.
As the day's events came to a close, an enchanting afterparty beckoned all participants to the picturesque shores of the Baltic Sea, providing a relaxed and convivial atmosphere for individuals from different companies to unwind, socialise, and create lasting memories.