June 27, 2023
Monthly Crypto News
Virtual Career Hunt: Poland's Biggest Bank Hosts Job Fair in the Metaverse, Million-Dollar Tweets, and Top Crypto Stories You Can't Miss
News from the crypto world is not only about boring quotes. They can be interesting and exciting, because Web3 is amazing in variety. Therefore, enthusiasts from the SOFTSWISS team have collected a bunch of unusual news and can't wait to share it with you. The international tech product company, known well for its crypto expertise, was the first in the world to create a solution for working with cryptocurrencies in the field of online entertainment. The expert has been recognised by the prestigious professional International Gaming Awards as the best crypto company of 2023. SOFTSWISS clients already have access to 3,000+ games optimised for more than 20+ popular cryptocurrencies (Bitcoin, Ethereum, Litecoin, Dogecoin, Bitcoin Cash, Tether and others), and this is not the limit. So let's go!
Job Fair in the Metaverse: Poland's Largest Bank Seeks Specialists
PKO Bank Polski is hosting a Virtual PKO Rotunda job fair in Decentraland, starting from 30 May.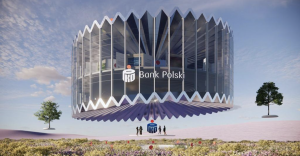 Photo: metaverse.pkobp.pl
The bank aims to expand its presence in the virtual economy market and is searching for IT specialists. Katarina Dzivulska, head of strategic development at the bank, expressed the desire to collaborate with IT companies to develop and maintain virtual platforms in popular games like Fortnite and Roblox. The bank has also shown interest in The Sandbox's Play-to-Earn (P2E) project, aiming to offer customers innovative forms of interaction through these platforms. The details of how the bank plans to create products in Fortnite, which differs from blockchain sandboxes, remain unclear. Meanwhile, the virtual real estate market has experienced a significant decline in prices, with virtual land values plummeting by 90% from the peak reached in 2022. Notably, Somnium Space witnessed the largest drop, with land values falling by 93.9%, followed by the Voxels project, where virtual real estate prices declined by 93.8%.
Dubai's Bitcoin Tower: Showcasing the Future of Digital Assets
Dubai has unveiled plans to construct a Bitcoin-themed hotel tower that highlights the significance of digital assets and cryptocurrencies. The hotel chain will incorporate advanced technologies like blockchain and artificial intelligence while prioritising sustainability and zero carbon dioxide emissions.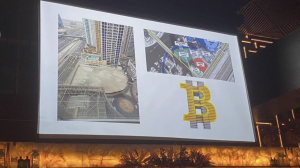 Photo: cointelegraph.com
Salvatore Leggiero, the developer of this project, stated:
"This will be the first hotel to give you back the money you paid, plus interest. Such an enticing offer promises guests an unforgettable experience, as well as the potential financial benefits of cryptocurrencies."
The Bitcoin Tower is a 40-story skyscraper that inspires admiration, symbolises Dubai's respect for bitcoin and embodies the principles of its enigmatic creator Satoshi Nakamoto. Leggiero plans for this tower to bridge the gap between digital and physical assets, revolutionising the real estate industry.
The United Arab Emirates continues to develop in the cryptocurrency sector. Recently, cryptocurrency exchange Coinbase reported that the UAE could serve as an international crypto hub for the Middle East, as well as parts of Africa and Asia.
Red Bull Racing, Formula-1 leader, Teams Up with Mysten Labs in Crypto Alliance
Formula One leader Red Bull Racing has formed a strategic partnership with Mysten Labs, utilising the Sui blockchain, which was recently launched. Mysten will provide an immersive experience for fans, with their logo prominently featured on Red Bull Racing cars, driver jackets, and pit team members.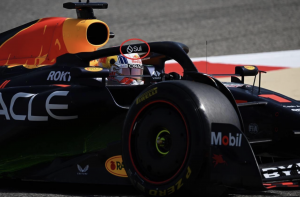 Photo: dscvr.one
The co-founder and CEO of Mysten, Evan Cheng, believes that blockchain startups have the potential to offer services and solutions that extend beyond cryptocurrency trading and NFT card games, showcasing the transformative power of Web3.
"Web3's potential to fundamentally change the way people transact, interact and communicate goes far beyond the basic cryptocurrency trading applications or NFT card games we've seen so far," he said.
Partnering with crypto-currency companies is nothing new for Red Bull Racing. The team has previously entered into sponsorship agreements with Tezos and the trading platform Bybit. In 2022, she agreed to pay Red Bull Racing an amount of USD 150 million.
Crypto Blogger Strikes It Rich with a Single Tweet
Pauly0x raised over ETH 500 after he tweeted his wallet address and a GIF saying "You get nothing".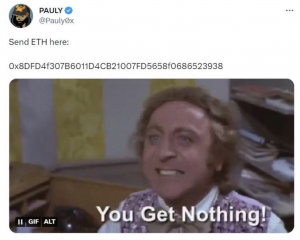 He also registered the ENS domain yougetnothing.eth and supplemented this tweet with a popular laughing Brazilian meme.
Within 7 minutes, the "most honest crypto investor" collected USD76.38 worth of ETH. And after 17 hours, more than ETH 540 accumulated on his account. That is, he became a dollar millionaire.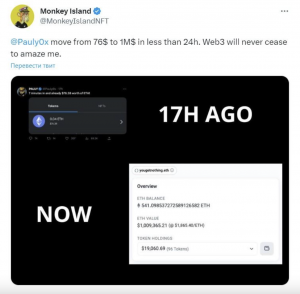 However, some sceptics do not believe in such a miracle. They suspect that the blogger is simply laundering money by sending "dirty" ETH under the guise of donations. Everything is in plain sight, so no one will suspect fraud. Plus, the blogger will attract "a few idiots who will actually send a few bucks."
Another user found out that one of the addresses, from which  ETH 10 was sent, is only 1 week old. And this wallet was deposited through a transfer from the MEXC exchange without KYC.
So the story is amazing and needs further investigation. But in the crypto environment, this is not a problem, so we are waiting for updates.
Nanjing Launches State Metaverse in China
Nanjing, the administrative centre of China's Jiangsu province, has unveiled its state Metaverse project known as the Blockchain Technology and Application Innovation Platform of China.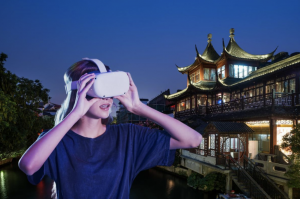 Photo: finance.yahoo.com
This is a government project that is dedicated to promoting and expanding metaverse research across the country.
The organisation aims to accumulate the experience of all developers, universities and enterprises in China, and to support research in areas related to the Metaverse. The project is led by Nanjing University of Information Science and Technology (NUIST).
In September 2022, NUIST University created China's first 'Metaverse Expert specialty. And in April 2023, NUIST University opened the Department of Wearable Virtual Reality Devices.
Nanjing is on the list of Chinese cities vying for a leading role in the evolution of the national metaverse. In February, the city unveiled its metaverse strategy. They have an ambitious goal of building an industry that generates 135 billion yuan (USD 19.13 billion) in annual revenue by the end of 2025.
This is another evidence that the Celestial Empire is softening its attitude towards the cryptocurrency industry.
The crypto world is becoming more and more intertwined with our lives. It gives new opportunities for earning and recreation, which we did not suspect before. Therefore, if you want to stay in trend, keep your finger on the pulse of crypto life!
This article was prepared by SOFTSWISS, an international tech product company recognised as the best crypto company of 2023 by the prestigious International Gaming Awards. With offices in Poland, Malta, Georgia, and Belarus, SOFTSWISS is a pioneer in developing unique and secure solutions for working with cryptocurrencies in the field of online entertainment.
They offer clients access to over 3,000 games optimised for more than 20 popular cryptocurrencies, with no limit to their expansion.